Top 9 Hotels for travel influencers in Qatar
Making yourself comfortable in Qatar is an essential matter. Since there is enough trouble with the heat produced by the sun, you must facilitate a comfortable accommodation although you are in Winter or any time of the year. We have brought you the Top 09 hotels in Qatar for your comfortable stay.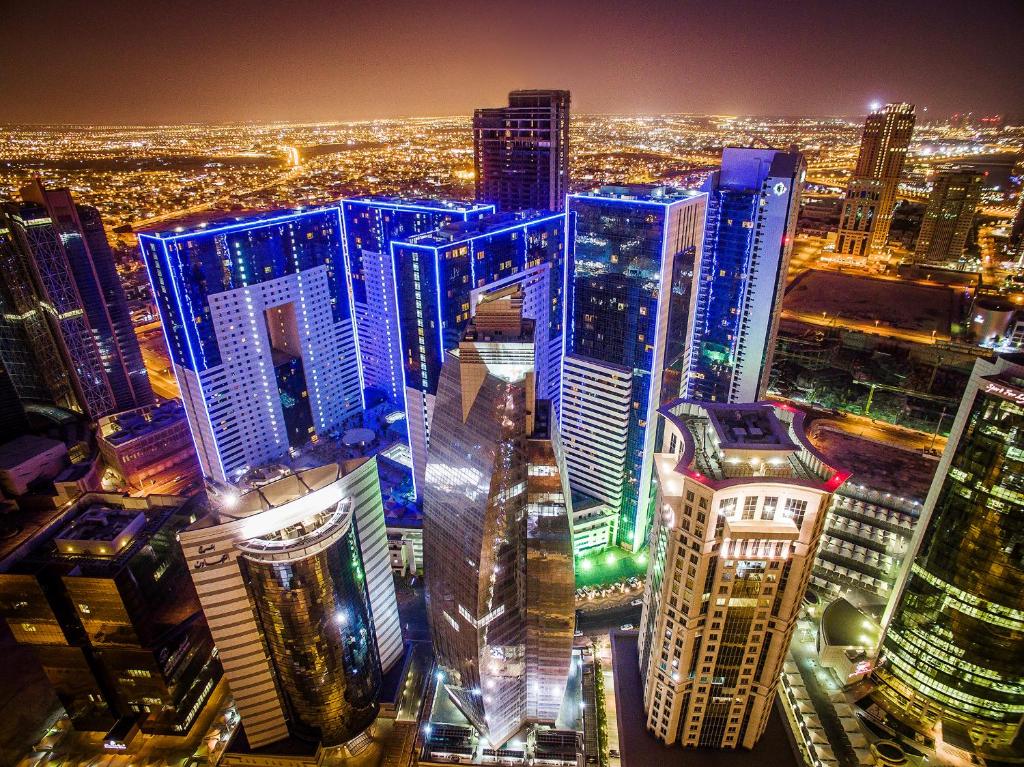 Ezdan Hotel
If you want to stay in a comfortable place along with decent distances to some popular places, we suggest you take Ezdan Hotel. Do you know about the Ezdan hotel? It is a famous and best hotel in Qatar according to customer reviews left on Google. In this hotel, you can obtain many features as you wish. Privet rooms, Wi-Fi, parking facilities, swimming pool, working out fitness centers, and playground are some of the facilities of the hotel.
It is a 4-star rated hotel which is the best for a tourist. Khalifa International Tennis and Squash Complex, Al Rumaila Park, Souq Waqif, Qatar National Library, and Katara Cultural Village are some of the places near this hotel.
Visitors have said that this hotel is the best and most quality hotel in Qatar as their staff is friendly and helpful to enhance the entertainment tourists seek.
Movenpick Hotel West Bay Doha
This is one of the five-star hotels in Doha Qatar. You can stay in this hotel short term or long term as they are specialized in facilitating both kinds of services. It has more facilities with 347 contemporary rooms than most of the usual hotels in Qatar. You can obtain a professional service in this hotel from an experienced staff.
Also, you can enjoy snorkeling, spa and wellness center, restaurant, free Wi-Fi, coffee machine, indoor pool, fitness centers, room service, and more.
When you stay in this hotel, you can enjoy the very nice view overlooking the seaside and from your room itself. You will not be able to get these kinds of experiences from everywhere in Qatar as this is about a country in the Middle East.
According to the previous user comments, this hotel is the best as it has perfect hospitality service, excellent location, comfortable room service, and more. The nearest places to this hotel are the city center mall, Katara cultural village, the pearl, Souq Waqif, and many more. If you are interested in discovering architecture, and several more things attached to ancient Qatar, the Movenpick Hotel West Bay Doha will be the best.
Golden ocean hotel
When you travel in Qatar, you can stay in the Golden ocean hotel which is situated in Al Hitmi, close to the Qatar national museum. It is a wonderful hotel and most guests like to this place due to its low charges and fees. It is a three-star hotel that has conference rooms, a limousine service, and a laundry service.
Golden ocean hotel has a special feature, the rooftop pool which you can use to enjoy your short outfits in the sunlight. You can enjoy 100% freedom in this pool as you wish.
Also, it has private parking. It has 140 luxury air-conditioned rooms with a mini bar, a refrigerator, and flat-screen TV. Also, this hotel has an outdoor pool, restaurants, free WI-Fi, fitness centers, free airport shuttle, valet parking, and more.
Oryx Airport Hotel
As a traveler of Qatar, you can take the service of this Oryx airport hotel as well. It is situated inside the Hamad international airport. It is a suitable place for relaxing and refreshments for guests. Most business travelers use this hotel.
The hotel is a three-star hotel. It has a fitness center with a gym and two squash courts which you can use to muscle up your body. Oryx airport hotel has superior rooms, deluxe rooms, family rooms, executive suites, and presidential suites. Its friendly staff is provided superb services for all guests.
According to the user comments, this hotel has delicious foods, comfortable rooms, cleanliness, a peaceful environment, and many more. Also, a museum of Islamic art, Qatar national museum, al Koot fort, and Khalifa international stadium are the nearest places to this hotel.
Strato hotel by Warwick
The hotel is one of Doha Qatar's finest due to its price and services. If you use this hotel, you will be able to drive to Doha Corniche and Souq Waqif art gallery within 15 minutes. Especially you can use this hotel for a special event as well that you can use for your entire family. It has a conference hall and a meeting room. Also, it's available for free self-parking.
Outdoor pool, fitness centers, bar, spa and wellness center, restaurant, and any other special services available in this 4-star hotel as facilities.
Sapphire Plaza Hotel
Sometimes your dream is to travel to Qatar. If so you can achieve this chance along with the Sapphire plaza hotel. They have the best hotel facilities for visitors and you will see it through their social media accounts. Plaza hotel is one of the luxury hotels in Qatar. When you get off the flight, you can reach the plaza hotel within 20 minutes, which makes the hotel one of the best choices for a traveler to relax in the shortest time.
This is a 4-star hotel and it provides elegant accommodation for guests. It has valet parking, a kid's pool, and express check in check-out features. All guests can relax in these air-conditioned rooms for a reasonable price. Also, these rooms have a room safe, telephone, and a minibar. The museum of Islamic art is the nearest place to this hotel.
Banana Island Resort
One of the Five-star hotels in Doha Qatar is Banana island resort. It is a luxury and elegant hotel. It has glistening water and beautiful surrounding which make you the best place to get an extended relaxation. In most of the comments, they have not had any words to explain this place about the calmness and quietness.
This wonderful resort has 141 luxurious guest rooms, suites, and villas. The resort is free from alcohol, among it the perfect place for Muslims and those who reject those things. There is driving, surfing, golfing, bowling and movie at the cinema as the activities to be done. Also, it has a wellness center and botanical garden.
If you want to go to Qatar national museum or museum of Islamic art or Al Koot fort or the Qatar national library, you can drive within a few minutes from the resort.
Chairmen Hotel
One of the three-star hotels in Qatar is called the chairmen hotel. It is a luxury hotel for all guests. It has restaurants, free Wi-Fi, free parking, room services, valet parking, a tea/coffee maker, and a business center.
This hotel has been recommended by the customers due to the quality services facilitated despite the stars they have. The staff is friendly and they give excellent service as well. Qatar national library, Al Koot fort, Qatar national museum, al Rumila Park, and grand Hamad stadium are the nearest places for this hotel.
Concorde Hotel
The Concorde Hotel is one of the best five-star hotels in Qatar situated near the Qatar national library. This hotel has specially recommended features such as a coffee bar, 24 hours room services, and child minding services.
All guests can obtain many luxury facilities in this hotel like a comfortable stay, rooms featuring slippers, bottled water, and a minibar. Also, bathrooms have bathtubs,s and bathrobes are coming in great value. However, you can take a meal at olives.
Conclusion: Top 09 Hotels In Qatar
We have explained the top 09 Hotels in Qatar that can be helpful for you with your stay. We considered the service quality of the staff, basic facilities, users' comments, and hotel charges when including the hotels in the list. We will bring you more hotels with our upcoming articles.